HAPPY NEW YEAR from The Purled Ewe!
2013 has come and gone in quite a hurry, or so it feels that way to me. Now we are in 2014...a New Year for knitting, spinning, and dyeing adventures!
I've been in the process of writing this post for over a week now. We have been super busy with traveling for the holidays and this past weekend, we were in DC for my husband's work conference. Now we're home, and I can take a deep breath, organize my thoughts (and my new stash items) and plan for the new year.

I pulled up the post I wrote last year on the knitting goals I wanted to accomplish in 2013 to see if I accomplished everything.
*Master Brioche Stitch: CHECK! It was fun learning this new stitch and though I only got around to making one cowl, I can now use this stitch for future projects.
*Do more color work knitting: CHECK! My Christmas gifts to my family this year was all about color work!
*Master socks: Mini CHECK on this one. I did make a few pairs this year, but still do not feel I have mastered the heels. Will continue to work on this goal.
*Stash Bust: CHECK! I did make some lovely items this year from my hand spun yarn!
Time to make new goals for 2014! These goals are not just about knitting...but also include spinning, dyeing, and sewing.
1. Continue enhancing my skills with color work knitting. For Christmas, I was gifted the Knit Picks Lofoten sweater pattern and all the yarns and items to complete this project. I don't have the exact colors shown in this picture, but pretty close to it. I've never made a fair isle sweater before, so looking forward to this challenge!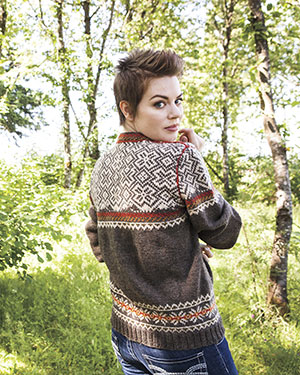 2. Spin my own yarn and knit it into a pair of socks.
3. Get Holiday knitting done PRIOR to November! This year I made the mistake of doing all my holiday knitting in the month of December. That was just crazy to say the least! So this year, my goal is to think ahead and start things EARLY.
4. Get back on the Hexipuff wagon! I have been so busy with other things that I haven't made a hexipuff in MONTHS! I would love to be able to put all my hexipuffs together by the end of the year to make my Beekeeper's Quilt. Now, to calculate how many I have and how many I need to make per month to finish this project.

5. Learn to use a drop spindle. I so enjoy spinning on my wheel, but there are some fibers that would do better on a drop spindle (like the camel fiber I have). I got a starter drop spindle for Christmas that is so much lighter and less wonky than the one I have already.

6. Learn how to work with the silk hankies I have. I now have 3 silk hankies that have been gifted to me and I have been trying to decide if I want to try knitting directly from them, or spin them, or continue to stare at them and think "my these are pretty!" OK, the third idea isn't really the best option. ;)

7. Write my very own lace shawl pattern! My MIL gifted me a Craftsy course on how to design my own lace shawl pattern. I have been wanting to learn how to do this for some time, so this year, I'm going to do it! It would be great to be able to offer my own patterns and shawls in my Etsy shop.

8. Continue enhancing my sewing skills. There are so many projects I'd like to do this year!

9. Continue creating new and fabulous yarn and fiber color ways using Kool Aid, Wilton's, Greener Shades Dyes, and natural dye sources. I've really enjoyed doing more dyeing lately and this year, I will do even more!

10. Ok, might as well make this an even 10 for this list. Maybe I'm going overboard here? My final goal for the year will be...hmmm....what have I not covered here in my list. OH! I remember now! Learn how to knit 2 socks with one being inside the other as you knit. My friend, Jeni, came across this idea online and shared it with me. I just need to find the link to be able explain to you how to do this.

What are your goals for 2014?